10 Best WordPress Hosting Providers to Choose From
Over $57 billion is spent annually on the market for website hosting.
Many people struggle when selecting a web hosting provider for the first time because they are unsure of which solution will best suit their needs.
I've compiled a list of the website hosting companies in this post that provide the best value for the money. For your small business, consultancy services, blogging, and creativity, to name a few, these service providers will be most effective.
BlueHost – The company that offers the best website hosting overall ($2.95/month).
The greatest and most widely used option for web hosting is Bluehost. Anyone new to website creation will find it most useful.
Bluehost offers three types of shared web hosting plans: Prime, Plus, and Basic plans.
SiteGround – The best hosting service for a secure and speedy website ($4.99/month).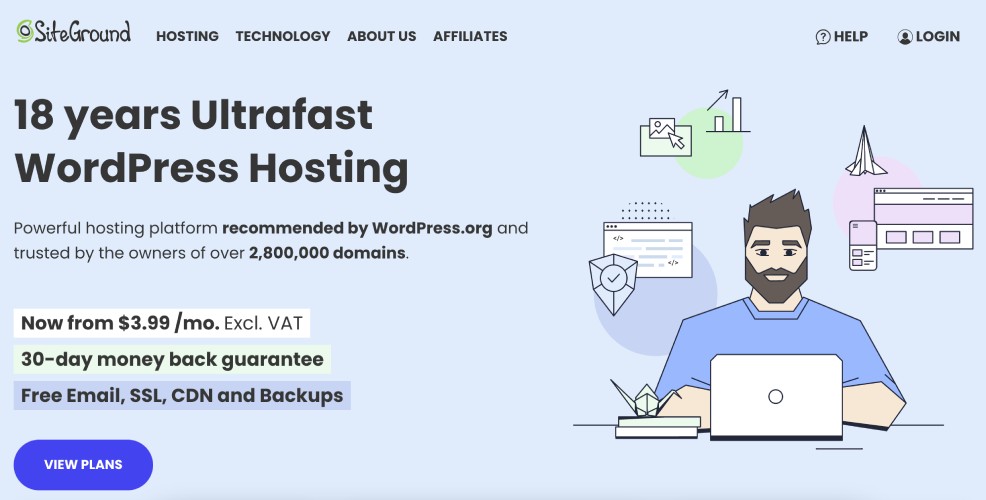 Fast loading is a crucial factor to take into account if you're interested in growing your website's audience. Nine out of 10 potential visitors to your website will quit if it takes longer than five seconds to load, according to experts.
Due to the fact that the platform provides its users with lightning-fast speed, this is perhaps one of the guiding ideas upon which SiteGround was built.
Hostinger – The best website hosting service provider in affordability ($0.99 /month).
With its hosting plans, Hostinger is renowned for their affordability while maintaining the performance and high quality of their hosting services.
Those beginning to develop a website for their items will undoubtedly be drawn in by the features' superiority and affordability.
The least expensive hosting package offered by Hostinger is $0.99 per month, but only if you choose the 48-month payment schedule. The price for renewing the services, however, is $2.15 each month.
DreamHost – The best in affordability for month-to-month hosting plans ($3.95/month).
Another great host for novices is DreamHost because it is inexpensive and user-friendly. It supports a unique dashboard and a fantastic hosting experience.
The best resource when looking to use WordPress is this platform. In fact, it provides a special WordPress website builder that serves as a useful manual for creating WordPress websites.
A2 Hosting – The best services when it comes to speed and reliability ($8.99/month).
The fastest website hosting company I've tested so far is A2 Hosting. They load pages at an amazing 279 milliseconds on average.
The speed is a result of the servers' optimization for WordPress websites and the use of LiteSpeed cache. None of the hosts I have examined or encountered perform faster than A2.
GreenGeeks – An eco-friendly web-hosting service provider ($9.95/Month).
I discovered an intriguing web host, the GreenGreeks, when researching the top website hosting companies. The GreenGreeks only use renewable energy to run their web hosting business.
GreenGreeks will offer you top-notch shared hosting, virtual private servers, WooCommerce hosting, and WordPress hosting with uptime, speed, and exceptional services.
InMotion – InMotion is the best in VPS hosting and true excellence in technology ($2.49/month).
Excellent web hosting company InMotion provides users with access to a huge knowledge base of self-help resources. You can always locate a guide online for reference if you run into problems when creating or maintaining your website.
This makes InMotion the perfect place to start for people looking to sell their items online through a website.
Other Best WordPress Managed Hosting Service Providers
Source. https://wphacks.com/best-wordpress-hosting/
What Features to Look For in Website Hosting Services
Speed
Uptime
Cost
Customer Support
Scalability